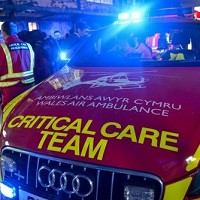 New state-of-the-art, world-leading vehicles will help transport doctors to the worst emergency scenes from next month, the Welsh Government has announced.
The advanced Audi Q7 rapid-response off-road cars will provide the country with the first nationwide pre-hospital amenity of its type.
Ministers hope the 4x4 fleet will improve the prospects of the most seriously injured and ill patients.
The vehicles will enable doctors and critical attention paramedics to help transfer, stabilise and treat people.
The cars will also greatly improve communications with control rooms and hospitals.
The Audis will use a special integrated information collection network, so mobile telecommunications apparatus can link the patient to the hospital.
The fleet will also hold high-tech diagnostic apparatus, such as blood-clot analysers and ultrasound.
The Q7 range will also ferry blood products, including plasma, and blood to emergency scenes.
Vaughan Gething, the Deputy Minister for Health, unveiled the fleet as he saw the vehicles in live action at the Defence Ministry's Monmouthshire training unit.
Copyright Press Association 2015