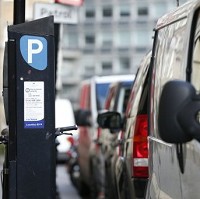 A squeeze on parking is forcing motorists to park further away from city and town centres, new research from the RAC suggests.
Parking charges are escalating with smaller and fewer spaces available.
The RAC is urging town halls to "act boldly" to remedy the situation, encouraging drivers to set their journey planners for town and city centres once again.
More than two-thirds (67%) of motorists who claim that town centre parking costs have risen have reduced their mileage because of this.
Furthermore, four-fifth of motorists notice rising parking charges, while nearly a quarter (24%) say that traffic wardens are more prevalent and 22% report paid-for parking spaces on previously free sites.
London drivers especially are feeling the pain of the parking squeeze with nearly six in 10 (59%) claiming that town centre parking is getting more expensive.
RAC technical director David Bizley said: "It's time for a reality check when it comes to parking in Britain.
"We have to find a happy medium between the desire of motorists to get to where they want to go, which our research shows is driven in part by inadequate public transport provision in many parts of the country, and the need to keep our towns and cities moving.
"Parking has always been an emotive issue for the nation's drivers - whether that's caused by driving around city centres endlessly to find an elusive space, or a neighbour mindlessly blocking your driveway."
He continued: "So what is the solution? Britain's local authorities have undoubtedly got a tough job to keep a growing driving population happy while allowing our high streets to thrive and keep traffic moving, but they need to think and act boldly.
"We need transparency. Councils should be compelled to report where the money raised from parking goes - giving drivers assurance that it is being ploughed back into road and transport improvements, rather than just plugging budget holes elsewhere."
Copyright Press Association 2014