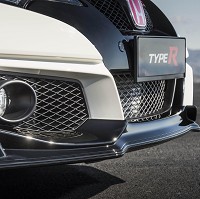 Motorists will get a first glimpse of Honda's new high-performance model in Switzerland next month.
Honda is unveiling its upgraded Civic Tyre R's latest incarnation as one of the Geneva Motor Show's top attractions.
Drivers buying a car from the Honda range may be tempted by its head-turning design upgrades.
The Civic Type R's CV now boasts a maximum speed of 167mph, believed to be unparalleled among the model's front wheel-drive rivals. Its thoroughly-tested aerodynamics allow for incredibly high rates of downforce as well as fantastic high-speed stability.
To handle such thrust, its owners will be given the assistance of Brembo's custom-made brake package.
Its visual modifications are no less pleasing with alloy wheels, at 19 inches, accommodating the bigger brakes.
Honda's Leon Brannan, who calls the model "unique" says that in excess of 100 orders have already been placed and he anticipates hundreds more will be tempted by its latest technical upgrades.
Copyright Press Association 2015