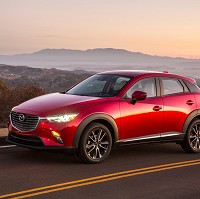 Mazda's all new CX-3 compact crossover is one of five models the manufacturer will unveil at next month's Geneva Motor Show.
The CX-3, designed as a smaller alternative to the CX-5, will have both two and four-wheel drive options - as well as Mazda's SkyActiv efficiency technologies.
After picking up the 2014-15 Japan Car of the Year award and Europe's Golden Steering Wheel, there will also be a lot of attention on the Mazda2. There will also be more details about the MX-5, with potential buyers waiting for prices on the model.
The latest Mazda6 and CX-5 models are on show for the very first time. It is thought there will be minor updates and upgrades in standard specification, while the Mazda6 is expected to come in a four-wheel drive option.
Mazda confirmed all five models on show come with its i-ActiveSense safety technology, as well as its MZD Connect infotainment system, with different screen sizes across the roster.
The Geneva Motor Show opens to the public on 5 March and will run until 15 March.
Copyright Press Association 2015