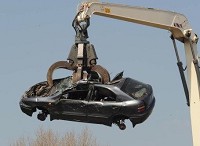 A comparison website has revealed that the Government's car-scrapping "cash for bangers" scheme may cost drivers around £6 million in insurance mid-term adjustment fees by the time it ends.
USwitch.com highlighted that insurers were charging motorists an average of £35 to change or adjust a policy and have seen a 43% increase in mid-term adjustment fees in the past year. The fee for cancellation of a policy is now £75.
The website said that insurers were "stealthily cashing in by penalising motorists with disproportionate mid-term adjustment fees". The scheme has so far cost participating motorists who have made policy adjustments around £679,000 in total.
Ashton Berkhauer, of uSwitch.com, said: "Consumers opting for the car-scrappage scheme may soon find the shine taken off their new vehicle when they find themselves hit with disproportionate 'admin' fees when updating their existing car insurance policy for the new vehicle.
"Even those motorists who find the cover for their new vehicle to be cheaper than the amount they paid to insure their older vehicle will still be subject to a policy adjustment fee, which certainly diminishes any money saved on their premium."
Copyright © Press Association 2009