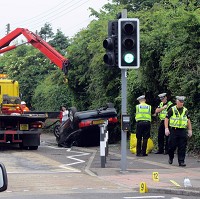 The national awards ceremony which celebrates the country's unsung heroes has honoured a lollipop lady, who dived in front of an out-of-control car to push a group of children to safety.
The Daily Mirror Pride of Britain Awards recognised Karin Williams this week, but the mother-of-one from Rhoose in the Vale of Glamorgan played down the act in typical fashion.
Actor and comedian James Cordon awarded the trophy to the 50 year-old at the London event, after she had described the horrifying incident in which a 61 year-old driver lost control of his vehicle.
Ms Williams said: "I don't remember pushing the children away. I just remember standing on the pavement with the children around me waiting to cross." The next thing she knew, Ms Williams was on the ground with a paramedic leaning over her, and accident vehicles at the scene.
"I wasn't in pain. I was in shock," she continued as Prime Minister David Cameron, X Factor judges Louis Walsh and Nicole Scherzinger and Queen's Brian May applauded her receipt of the award.
Ms Williams continued to underplay her role in the incident by insisting "I'm not brave. I did my job. It was pure instinct."
The lollipop lady was joined on stage by a group of children she looks after, who all wore lollipop lady outfits and held signs saying "Thanks Karin".
Copyright Press Association 2013