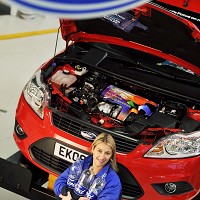 In a somewhat unlikely partnership, Ford and Heinz have teamed up to investigate whether the use of tomato fibres can be used to develop green materials for car components.
Scientists believe they can produce a sustainable composite material from tomato skins to use as wiring brackets or to create in-vehicle coin containers, for example.
Ford plastics research specialist Ellen Lee said the teams hope to develop a "strong, lightweight material" while "reducing our overall environmental impact".
Ford has previously revealed its intentions to attempt to increase the growth of fuel-efficient vehicle technology across the world.
It has shown its commitment to green ventures over the last two years by teaming up with The Coca-Cola Company, Nike Inc and Procter & Gamble to speed up the development of a plant-based plastic in a bid to reduce its carbon footprint.
And it hopes this new tie-up will utilise the peels, stems and seeds from the two million tons of tomatoes used by Heinz Ketchup each year.
Copyright Press Association 2014