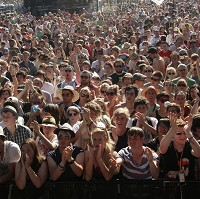 Music fans travelling to the Leeds Festival are being told to expect heavy traffic and long delays.
Tens of thousands of people are expected to descend on Bramham Park for the annual festival between 28 and 30 August - and Highways England warns major roads in the area will be busier than usual.
The days before and after the event are predicted to be the busiest, as music lovers arrive and leave.
Drivers will use the A1(M) to junction 44 (A1M/A64 Bramham Interchange), where festival-goers will exit and continue on the westbound A64 towards Leeds.
The traffic will use both lanes on a one-way system on the A64 and will turn right into the festival car parks.
To cope with the increased levels of traffic, Highways England will close the A64 to all through traffic travelling eastbound from midnight on Wednesday 26 August until 5.00am on Friday 28 August.
Traffic from York to Leeds on the A64 will continue as normal but queues are predicted on the A1(M) at junction 44 (Bramham Interchange).
Drivers are being advised to plan and check their travel routes in advance, particularly those not heading to the festival.
Copyright Press Association 2015