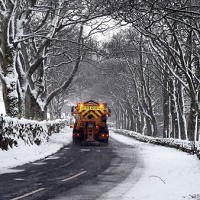 Rush-hour drivers have battled their way into work through harsh motoring conditions caused by heavy overnight snowfall.
Wednesday's commute saw many motorists have to call on their breakdown cover as some of the winter's worst weather hit northern routes, with Yorkshire particularly affected.
Police urged drivers to take additional care in the icy and cold conditions, with the West Yorkshire force tweeting their concerns.
And there seems little let-up ahead with Met Office forecasters saying that more snow will hit Yorkshire as well as many other areas throughout the morning.
RAC spokesman Simon Williams said: "Although not all that easy on these dark mornings, our advice to motorists is to take a small amount of time to check over their vehicle before setting out. Is the screenwash topped up, are tyres in good condition, and are the wipers working effectively? Even just taking five minutes now could save precious time later in the day. Then when setting out, be ready to adjust your driving style accordingly for the conditions."
Scotland's west coast, north-west England, Northern Ireland and many Midlands districts have been issued a snow-related 'yellow' warning.
The famous Snake Pass route linking Sheffield with Derbyshire had to shut. But every other major route in the area, including The Parkway, Sheffield, and the much-affected Woodhead Pass, are still open.
The northbound Doncaster stretch of the M18 and junctions 32 to 47 were snow-hit. But day-long wintry showers should turn into rain, forecasters predict.
Leeds Bradford Airport's passengers also faced delays after the snow forced its closure until 9am.
Copyright Press Association 2015