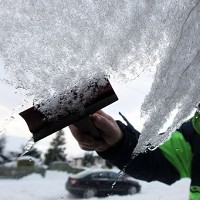 A fortnight after blizzards shut schools, airports and roads across the UK, the heavy snow is making a return.
Forecasters say the snow may lie as thick as 10cm in some parts, coupled with gale-force winds of up to 70mph and plummeting temperatures.
Warnings have been issued for most areas of Scotland and Met Office experts say parts of England may see some more snow and ice before the end of the week.
Motorists should ensure theirbreakdown cover is up-to-date in case of any emergency on the roads.
People across Scotland have been urged to prepare for severe weather, especially the heavy snow and high winds.
Meteogroup 's Stephen Davenport said: "Over the next 24 hours we'll see localised snow storms with 5cm-10cm expected to fall in the Highlands, Pennines and western parts of the southern uplands.
"Lower amounts are forecast on higher grounds in Wales and Devon and Cornwall.
"Winds will be pretty strong, especially overnight, in areas affected by these snow showers which will result in blizzard conditions.
"By the end of the week there could be more snowstorms around, and even parts of the South may see some snow."
Copyright © Press Association 2013