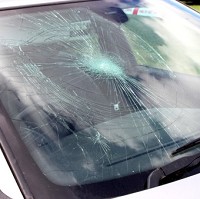 The sustained period of hot weather in the UK has seen an increase in damaged windscreens, Autoglass said.
There was a 10% year-on-year rise in cracked windscreens as temperatures soared to more than 30C.
Autoglass has responded by devising a summer driving checklist so motorists are less likely to suffer a breakdown in hot weather.
This includes topping up water, checking the oil level and making sure the coolant and distilled water system is at 50:50 to prevent your car from overheating.
You should also clean your windscreen inside and out with spray wash instead of water, and ensure wiper blades are free from dirt to protect the glass and prevent dust sticking so you can see the road clearly.
Check the air pressure and tread depth of all the tyres to reduce the stress on the wheels, and while driving take extra care when approaching a rough road surface or pothole. This will reduce the chance of grit and loose road chippings bouncing off the wheels and damaging your car and other vehicles.
Copyright Press Association 2013