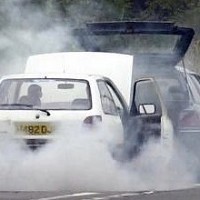 The heatwave has been playing havoc with the cars of Britain's motorists, the RAC has revealed.
A huge rise in the amount of reported, heat-related breakdowns was evident on Tuesday. Cooling system errors alone rose by 102%, while the amount of burst cylinder head gasket problems escalated by 82%.
It also seems that drivers are getting hot under the collar metaphorically, as well as physically.
Simon Williams, RAC spokesman, said: "The heat has taken its toll on motorists as our patrols dealt with a 92% increase in accidents on Tuesday as well as 237% more misfuellings, possibly as a result of people getting hot and bothered at the pumps.
"We also experienced a 66% increase in people locking their keys in the car and a massive 456% uplift in cases of running out of fuel which we can only put down to more drivers taking to the road to make the most of the weather and possibly running the fuel gauge gauntlet as result.
"There was also an unusual 167% jump in vehicle fires, however the cause of this increase is as yet unknown."
The figures come as drivers contend with 2015's hottest day so far - Wednesday, July 1 .
Temperatures have hit highs of 34C (93F), following the 33C (91F) experienced on Jersey and 30.5C (88F) over mainland Britain the day before.
The RAC offers drivers advice to avoid heat-related summer breakdowns - b ut nothing could help sweltering motorists stuck in a jam on the UK's busiest motorway on Tuesday.
Delays of over an hour faced drivers on a Surrey eastbound anti-clockwise stretch of the M25. This came after a shunt involving a van and a car between junctions 9 (Leatherhead) and 8 (Reigate).
Highways England shut all lanes in this direction as queues stretched back to Cobham's junction 10 and further. Motorists sought shade over on the motorway's hard shoulder after leaving their vehicles, Highways England and police officers reported.
Elsewhere, Wimbledon tennis officials slightly reduced the venue's capacity to enable more shade access.
Health leaders urge people to look out for each other while the heatwave persists. They also called on company bosses to let workers travel to the office outside of the rush hour to prevent congested public transport.
Copyright Press Association 2015