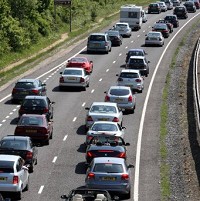 Commuters are being warned to expect disruption to their journeys as the temperature carries on climbing.
Temperatures are forecast to reach 30C on Tuesday, before climbing as high as 35C on Wednesday.
Motorists - particularly those travelling with the elderly, young children or people with breathing problems - are advised to check their routes and use a journey planner before setting off to cut their risk of getting stuck in traffic.
Drivers should also ensure their air conditioning is working properly and travel with a supply of drinks so they and their passengers remain hydrated.
Public Health England 's Dr Angie Bone says with high temperatures known to have an effect on people's health it is possible the heatwave could result in more deaths than normal.
She adds that it seems likely the Met Office will issue a level 3 heatwave alert, which would include advice being issued on how to stay cool.
Thunderstorms are forecast to hit northern and western parts of the UK by the afternoon of July 1. That is expected to result in lower temperatures on July 2 although the mercury is predicted to rise again during the lead-up to this weekend.
Copyright Press Association 2015
https://www.gov.uk/government/organisations/public-health-england (Public Health England)