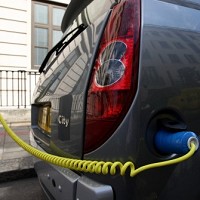 Drivers of electric vehicles visiting Heathrow Airport are to get more plug-in points this year.
The £2 million move comes as the airport tries to improve its environmental credentials amid the possibility of a third runway being built there.
More than 135 additional dual-cable charging points will be installed, giving upwards of 260 motorists the chance to power up their electric vehicles.
Further plans aimed at lowering vehicle numbers, emissions and noise will follow, according to John Holland-Kaye, chief executive of the airport.
The additional charging points are Heathrow's latest attempt to try to soften the potential environmental impact of any new runway.
There are already 37 plug-in points for short-stay drivers to use in Heathrow's car parks.
This is in addition to the 600 or so airside chargers, most of which are used by the site's 800 electric-powered luggage trucks.
The airport claims it has already carried out seven out of 10 of its green pledges made over the last year.
The remainder are being progressed, according to an airport study.
Mr Holland-Kaye says that the airport is making extremely "significant progress" in its bid to become better neighbours.
He says more needs to be done, however. A report will follow later this year on further "ambitious" proposals to make an enlarged Heathrow the world's most environmentally accountable business of its kind.
A Government decision on the location of a new runway was originally expected last month and is now likely to be made by the summer.
Copyright Press Association 2016. Motoring News articles do not reflect the RAC's views unless clearly stated.