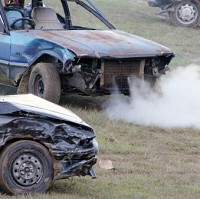 The cars on Britain's roads do not quite yet resemble those used in a demolition derby. But more than a million motorists are driving accident-damaged vehicles, a new report suggests.
This could leave tens of thousands unaware that the safety of their vehicles has been harmed by small shunts.
Accident Exchange's research also said that British motorists drove nine-billion fewer miles between 2006 and 2012 as fuel prices rocketed.
The number of accidents stayed roughly the same. The percentage reported to the authorities dropped by 2.2% and the number of recorded repairs dipped even more sharply - by 21%.
This leaves a calculated 1,092,000 drivers who chose to leave their vehicles unfixed after an accident in the past year alone.
With drivers looking to keep down car insurance premiums by opting for high excesses and keeping hold of no claims bonsuses by not reporting all damage, the financial impact on already cash-strapped household incomes has seen a leap in "delayed repairs".
Accident Exchange chief executive officer Steve Evans, said innocent parties are looking to keep hold of the cash rather than getting vehicles repaired as the number of private settlements rise.
Copyright © Press Association 2013