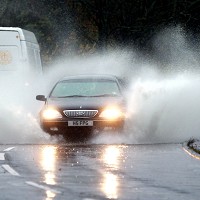 Heavy rain has caused hazardous conditions on the roads, with police warning drivers to take extra care to avoid accidents.
Some motorists were forced to abandon their vehicles as roads were flooded, a timely reminder of the importance ofbreakdown cover .
Police in Devon and Cornwall urged drivers to take greater care and adjust their braking times, warning that standing water meant there was a high risk of aquaplaning.
The conditions were caused by heavy bands of rain moving across parts of England and Wales overnight, causing localised flooding.
The Environment Agency has issued dozens of flood alerts and warnings, with south-west England the worst-hit area.
Residents have been placing sandbags at the entrances of their homes in a bid to keep the water out after many areas of the country were badly hit last month by heavy rain.
Copyright Press Association 2012