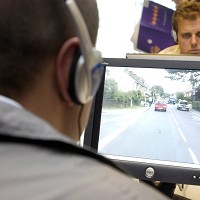 The hazard perception part of the driving theory test is getting a makeover this week, using CGI technology.
Until this week, learners have seen video recordings of real roads showing common situations that may present them with issues when driving.
The Government says the image quality is not as sharp as it could be and it is now harnessing CGI to improve things.
As the road situations shown are said to be the right things trainee drivers should be tested on, the CGI replacements will recreate the same examples.
People taking the test will see more up-to-date cars on the roads, modern surroundings and highways, as well as a sharper picture.
Nothing is changing about how the hazard perception test works and the number of points needed to pass remains the same.
Learners have to identify developing hazards while watching the clips - that means anything that may mean they have to react, maybe by steering differently or slowing down.
Copyright Press Association 2015