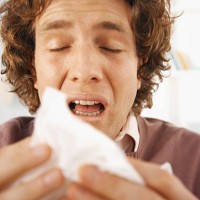 Dosed-up hay fever sufferers are risking being involved in an accident after confessing to dizziness and drowsiness at the wheel, new research has revealed.
And with the recent weeks of heavy rain set to push pollen levels through the roof, sufferers are being warned their symptoms could be worse than normal.
Sneezing and watering eyes will result in some 700,000 drivers who have hay fever having their eyes shut for 60 seconds out of every 45 minutes of driving time, according to the research by One Poll, reducing reaction times and road awareness and raising the risk of an accident and more costly car insurance premiums.
But taking medication - almost 90 per cent of sufferers use antihistamine-based drugs to combat the violent sneezing bouts - can make things even worse, say the researchers.
More than 1.7 million (30 per cent) of drivers who have taken medication admit suffering dizziness, drowsiness, blurry vision and slower reaction times.
Meanwhile over 3.5 million (63 per cent) admit having had a small accident or near miss after 'dosed-up driving'.
Copyright Press Association 2012