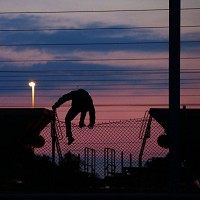 The Road Haulage Association (RHA) says plans to close the Eurotunnel at night to help prevent illegal migrants entering the UK are "incredulous".
Thousands of migrants are still camped in Calais, trying to stow away on lorries bound for cross-Channel ferries.
There are even reports of migrants hiding in people's cars, as well as boarding Eurotunnel trains bound for London.
The RHA, which represents heavy goods vehicle operators, believes the option of shutting the tunnel should be a non-starter.
It claims doing so would have a catastrophic effect on the efficiency and capacity of the freight traffic that relies on its connection to the Port of Calais for the transfer of goods between the UK and rest of Europe.
Deploying the French military to provide increased security on the ground is a better alternative, it declares.
Eurotunnel has described nightly incursions in Calais, with hundreds of migrants attempting to breach security at once. A man was recently arrested after allegedly walking almost the entire length of the tunnel - 31 miles - towards the UK.
Richard Burnett, chief executive of the RHA, says the suggestion to close the tunnel at night simply beggars belief.
Cross-channel freight capacity has already been severely impacted since the MyFerry ships have been out of action, and he claims a move to further to reduce the capacity would be a detrimental step that serves no useful purpose.
But it is not just UK hauliers that are feeling the effects of the migrant crisis, holidaymakers heading to Europe are facing long queues and extended delays. Motorists in parts of Kent are also suffering on a daily basis.
Mr Burnett adds the proposal to shut the tunnel at night would cost far more in terms of damage to the economy than it could ever gain in terms of increased security during the hours of darkness.
Copyright Press Association 2015