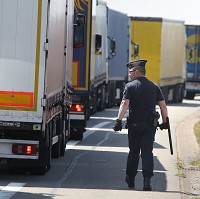 Home Office figures reveal hauliers are forking out millions of pounds in fines for illegal stowaways.
Penalties totalling £12.4 million have been handed out since the current rules were introduced in 2008, which state companies must pay up to £2,000 for each person found travelling illegally into the UK.
Fines apply whether the driver is aware of the stowaway's presence or not.
The latest data from the Home Office shows total fines have increased four-fold to £4.2 million a year - and drivers are expecting to pay even more this year as record numbers of stowaways congregate at key ports.
Calais, for instance, saw more than 350 stowaways caught in the space of just four hours during last week's strike by port workers. The action caused severe congestion, allowing migrants to break into back of gridlocked vehicles.
With the threat of stowaways on the rise, hauliers are installing cameras on their vehicles to prevent migrants jumping aboard.
Sales of SmartWitness in-cab CCTV cameras have shot up by a fifth this year. The devices can be viewed from the cab and also send text message alerts to the driver's phone if there is a disturbance when the driver is away.
With a 360-degree turning circle, the cameras allow drivers to see the whole way round their vehicle. This means they can spot stowaways as they attempt to break in and climb on board, even at the back.
Copyright Press Association 2015