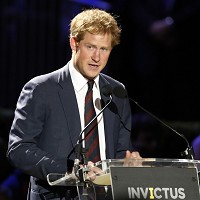 A police motorcyclist who was part of a motorcade escorting Prince Harry is is recovering in hospital after crashing into a car.
The driver of the Toyota Prius which the motorbike collided with is also in hospital following the accident which took place near Regent's Park in London. Firefighters had to cut him out of the vehicle.
A Metropolitan Police investigation is under way although no arrests have been made.
Harry appeared visibly shaken by the incident, according to a witness who spoke to the Daily Mail, and kept looking back over his shoulder to see what was going on.
Witnesses reported seeing Harry with his head in his hands in the back of the car. However, he stayed in the car due to security reasons.
Nearby roads were closed following the incident, which happened at 9.40am on Thursday at Prince Albert Road, on the junction with Regent's Park.
Copyright Press Association 2014