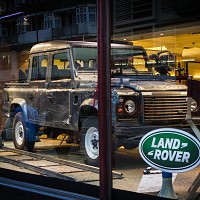 Fans of James Bond may want to consider making a pilgrimage to Harrods in London where a vehicle which features in of the new movie Skyfall is currently making an in-store appearance.
The department store has a new window display showcasing the Land Rover Defender 110 that is driven by a field agent character called Eve. Eve is played by the actress Naomie Harris, who you may recognise from roles in 28 Days Later and the Pirates of the Caribbean.
Skyfall's opening sequence features the bashed-up Land Rover and the vehicle forms part of a mock-up of the set at Harrods, surrounded by cameras, studio lighting and a director's chair. A projector has been set up to beam the Land Rover logo onto the nearby pavement.
The ground floor of Harrods has been transformed in honour of the new film, which will be the 23rd in the series. There are '007' logos surrounding the store's entrances, with the display planned to last until 27th October.
Copyright © Press Association 2012