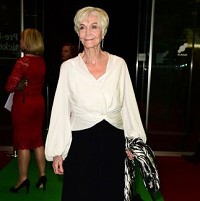 Sheila Hancock wants motorists over 80 years old to undergo competence tests, in order to get a better deal on their insurance.
The former Rag Trade actress was astounded when her car insurance premium "absurdly" rocketed by 157%, from last year's £873.29 to £2,246.79 this time round.
Hancock, who owns a 2012 Mini Cooper, claims older motorists such as herself are being discriminated against.
The 82-year-old star says her age group is almost certainly involved in fewer accidents than "butch" 30-something city workers.
As it is, she claims, hardly any firms will touch insurance for the over-80 generation.
She wants answers on what will happen to Britain's ageing population, especially if they are marooned in remote areas and can't afford their insurance.
Hancock, whose husband Inspector Morse actor John Thaw passed away 13 years ago, has called for motorists aged over 80 to take independently judged tests. These, she said, would prove their competence to drive.
She complained to the Guardian newspaper after Admiral Insurance's increased premium, which came despite her not making any claims throughout her 60 years-plus behind the wheel.
Admiral called Hancock's premium increase "unusually high".
It said that her profession and age had been taken into account, but these factors had been overlooked when calculating the final amount.
The actress admitted to a couple of "non-fault" incidents over the past two years, but claimed on neither of them.
Hancock's then insurance firm countered, however, that the chances of a customer like her making claims later on had gone up.
It blamed the insurance rise on a wide range of minor rises to its rates.
Hancock, who has transformed her career over recent years by becoming a television talent judge and musical star, has since started a new insurance deal.
The star, who is also now a widely-read author, is today paying £1,073.83, according to the Guardian.
Copyright Press Association 2015