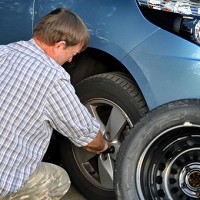 Motorists are being urged to keep themselves and their families safe by making weekly tyre checks.
The call comes from TyreSafe and has been timed to coincide with the school half-term holiday when many families are hitting the road for day trips and short breaks.
The tyre safety organisation says checks should be carried out at least once a week to ensure tyres are in good condition, inflated to the right pressure and have the correct tread depth.
Its chairman, Stuart Jackson, says ensuring tyres are in good condition is even more important now the wetter and colder autumnal weather has arrived.
Failing to do so, he adds, can prevent cars stopping safely in wet conditions, putting lives at risk and placing drivers at risk of being stopped and fined by police.
TyreSafe advises people to carry out checks by putting a 20p coin into their tyres' treads. If the coin's outer band can then still be seen the tyre's tread is illegal and needs replacing. Motorists are also urged to check for bulges, cuts, glass and nails in their tyres.
Copyright Press Association 2015