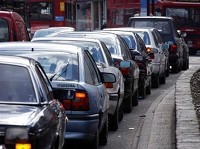 People driving to work during the half-term break will arrive on average 12 minutes quicker due to the reduction in school run traffic.
According to car insurance company elephant.co.uk, car commuters in London will benefit the most from half-term saving almost 16 minutes on their journey to work.
Commuters in Northern Ireland can also expect to see a significant change in their driving time, saving an average of 13 minutes and 30 seconds each morning.
A survey of 3,000 motorists shows 10% of motorists are expecting to save between 30 minutes and an hour each day during the school holidays.
However, not all workers will be able to reap the benefits of schools being shut, with car commuters in south west England cutting just nine minutes 28 seconds off their morning journeys.
Elephant.co.uk managing director Brian Martin said: "Twelve minutes might not sound like much time, but when you add those 12 minutes up over all the school holidays. It equates to an awful lot of extra time you can enjoy at home, rather than being stuck in the car."
Copyright © Press Association 2009