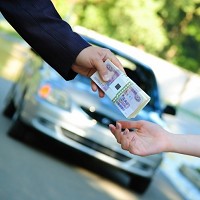 Millions of people are buying used cars from private sellers each year - but the RAC reveals nearly half of them feel misled.
The RAC survey among 2,300 motorists found that 45% of buyers believe the seller deceived them, with two in three (67%) claiming they unknowingly bought a faulty car.
One in two of those polled said they had bought a car privately to save money, but one in five (21%) of those who believe they were deceived said their car turned out to represent poor value.
Around 40% of all used cars in the UK - or 2.7 million - change hands privately every year, British Car Auctions estimates.
Asked about their main concerns when buying a car from a private seller, three in 10 (29%) cited existing mechanical faults; one in four (24%) worry about buying a stolen vehicle, and one in eight (13%) fear they may buy a car that has been written off.
The findings have been released to coincide with the launch of the new RAC Car Passport , which helps buyers access information about a vehicle before buying it.
This includes a valuation to find out whether the proposed price is fair, details about the vehicle's history and things to watch out for when taking it for a test drive.
Robert Diamond managing director at RAC Car Passport said: "Buying a car privately can work out cheaper than going through a dealer and is therefore a popular choice in the UK. But clearly many drivers don't have a lot of trust either in the person they're buying from, or in the car they end up driving away with.
"Sadly, motorists are telling us that buying a car privately appears to resemble something akin to motoring roulette. What's more, buying privately doesn't afford the same levels of consumer protection as buying through a dealership - putting more pressure on making the right purchase of a vehicle.
"While there are many good vehicles out there for sale, there is always the fear of buying a dud," said Diamond. "Motorists don't want nasty surprises. With our new Car Passport buyers can get peace of mind about what they are looking to purchase. Armed with the best possible insight, it allows them make a better, smarter purchasing decision."
Copyright Press Association 2015
https://www.rac.co.uk/buying-a-car/car-passport/?WT.ac=SideAd_homepage_carpassport_left (RAC Car Passport)