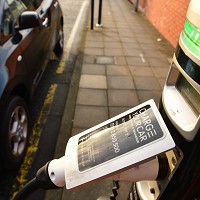 Electric and hybrid vehicles are growing in popularity among drivers, new research reveals.
Half of those planning to buy or lease a new car in the next two years are considering the electric or hybrid route, according to the survey of 2,000 car owners by the Institute of the Motor Industry (IMI).
The professional body for the retail motor sector says demand for alternative fuelled vehicles looks set to race ahead.
Buyers are no longer put off by the issue of range thanks to better batteries and the increasing number of charging stations, while Government grants - up to £5,000 off the cost of an electric car - and tax savings mean prices are reasonable.
The number of electric and hybrid cars on the market is also greater than ever before, as more manufacturers explore the technology, with scores of models to choose from compared to a handful a few years ago.
IMI chief executive Steve Nash says the level of demand shown in the poll is astonishing. But he is concerned about skills shortages in electric vehicle and hybrid maintenance, so is calling on ministers to do something about it.
He wants to see a licence to practise for technicians to reassure the public and to protect the employers who invest in the skills required to take care of the next generation of alternative fuelled vehicles and their owners.
Copyright Press Association 2015