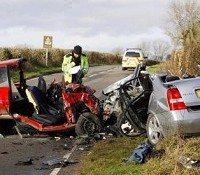 Half of Britain`s single-carriageway A-roads are not safe, according to the Road Safety Foundation (RSF).
And eight out of 10 of these "persistently higher risk" roads are in the north of England around the Buxton, Sheffield, Macclesfield and Yorkshire and Humberside areas.
That includes a notorious 7.5 mile stretch of the A537 from Macclesfield to Buxton. This road, which is loved by motorcyclists, has seen a 42% rise to 27 fatal and serious crashes since last year, 18 of them involving bikers.
However, efforts by Cheshire County Council to improve the safety of the road mean that when motorcyclists are excluded, this road actually becomes one of Britain's safest.
The most dangerous stretch - excluding motorcyclists - is the four miles of the A675 between Higher Walton and the M65 (J3) in Lancashire.
The safest is a 27-mile stretch of single carriageway on the A40 between Carmarthen and Llandovery in Wales. Here, an 80% reduction in fatal and serious collisions from 54 to 10 wa achieved by such measures as resurfacing and improvements to junctions.
Copyright © Press Association 2009