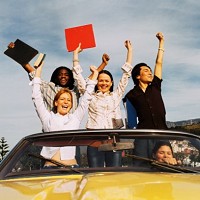 Almost one in two first-year university students possess a full driving licence, according to a new study.
Half of these look for low-cost first-time cars as well as other budget motoring must-haves such as affordablebreakdown cover and car insurance.
About 38% said they would pay between £501 and £1,000 for a car, with just over 11% saying they would spend under £500.
A quarter said they would pay a maximum of £2,000, according to UCAS Media higher education marketing experts' poll of 11,000 freshers.
Just under half of those questioned said they had a driving licence, with 16% now learning to drive and 23% planning to try "in the next couple of years". About one in 10 said they did not drive at all.
Half the freshers asked said they owned their own vehicle, 22% said they used a parent's or relative's car, while one in four said they had no access to a car.
Only one in three said they kept their car with them at university or college.
Copyright Press Association 2013