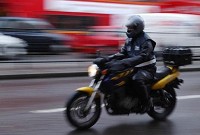 Motorcycling TV chefs the Hairy Bikers have urged riders to be wary of the "inherent risks" on roads as they backed a campaign to cut the number of accidents in Scotland this summer.
Si King and Dave Myers are supporting Grampian Police's latest bid to reduce the number of serious accidents involving motorcyclists.
The good weather, along with "great driving and riding conditions", is expected to bring more motorbikes out on the region`s roads this summer.
The pair were visiting the area to film an episode of their upcoming series on BBC 2.
King said: "Ask yourself, how would your friends and family feel about you spread all over the tarmac or in front of a truck and what insurance you have to look after them when you're not around any more? So wise up and don't wipe out."
As many as five motorcyclists have already died on Grampian`s roads this year, with a number of serious injuries due to other collisions.
Grampian Police`s head of roads policing, chief inspector Ian Wallace, said: "The north-east of Scotland has some great scenery and roads and it's only natural that it will attract motorcyclists, both local and from further afield."
Copyright © Press Association 2009