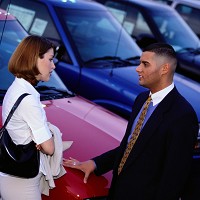 Nearly 20% of Britons loathe haggling but feel forced to do it in today's tough economy when purchasing a new car, figures show.
The research conducted by Recombu Cars, the online car research and buying site, discovered that 33% of UK car purchasers said bargaining for a deal is unnatural for them.
Of the 2,000 participants in the survey, 29% said they were put off by pushy sales staff, and 18% said they didn't bargain because they didn't know enough about the product they were purchasing.
As for thebreakdown of the most common symptoms people displayed when they felt anxious about haggling, 19% of those 2,000 polled said their hearts raced and the same percentage said they blushed. Another 13% said they stuttered while haggling, while 12% said their mouth went dry and the same percentage said their palms began to sweat.
The good news is that 21% said that research they had done online about a particular car, including its price, helped them to bargain in person. Another 13% said they preferred to avoid haggling altogether and just make online purchases.
"Access to information online has certainly made the buying process easier and it helps shoppers get away from pushy salesmen who will do anything to get their hands on your money," said Rory Reid, editor of Recombu Cars, in comments on the research results.
Copyright © Press Association 2012