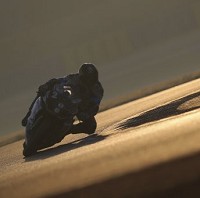 Guy Martin is the rider Triumph officials will entrust with securing a new motorcycling world record.
The British motorbike-manufacturing giant hopes the legendary TT racer will hit speeds of 400mph (643.73kph) to smash the existing 376.363mph (605.697 km/h) mark. Rocky Robinson set this target five years ago in a Top Oil-Ack Attack streamliner.
The Hinckley-based team's 1,000 bhp Rocket III Streamliner - giving 9,000 rpm - is heading to the US next month in a bid to claim the record.
The machine, which is fuelled by twin 2.3-litre Triumph Rocket III turbocharged engines, is heading for Bonneville Salt Flats' Bonneville Speedway track in Utah later this month. This is for final testing in preparation for the event from August 24-27.
Grimsby-born speed junkie Martin, 33, is well known for his exploits at the Isle of Man TT and as a television presenter and truck mechanic.
Triumph is looking to steal back the speed record it lost in 1970. In fact, the iconic company continuously held the accolade for 15 years leading up until then, except for 33 days. Dudek Streamliner, Texas Cee-gar, Gyronaut X1 and Devil's Arrow were the record-setting Triumph streamliners from that era. The latter reached a maximum 245.667 mph (395.28 km/h) speed.
Today's methanol fuel-powered Streamliner stands 3ft tall (90cm), 2ft wide (60cm) and 25ft 5ins (7.74m) long.
The speed machine will be taking part in the Federation Internationale de Motocyclisme's (FIM) Division C category for streamlined motorcycles in the world-record attempt event.
The world-famous Bonneville name came into being after Johnny Allen's legendary land-speed record attempts there 60 years ago in September. Allen hit a new mark of 193.72mph (311.76kph). Bonneville's inaugural T120 machine was launched to the world at the bike show at Earls Court before going on sale 56 years ago.
Copyright Press Association 2015