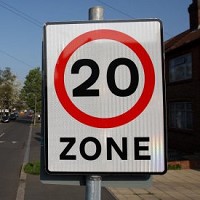 A national motoring group wants a rethink over plans to introduce more 20mph limits on Britain's roads.
The Alliance of British Drivers (ABD) has questioned the effectiveness of 20mph zones following a reported increase in accidents at this speed.
According to the group, which surveyed its members on the subject, a more effective way of improving road safety would be to put more emphasis on encouraging drivers to adjust their speed to the road conditions, rather than rolling out blanket zones.
ABD spokesman Sean Corker questioned proponents of 20mph zones being extended across the country, suggesting that their aim in reducing speed limits seems to be to discourage driving rather than making the roads safer.
The Government is in the process of investigating the effectiveness of such areas after official figures showed an increase in recorded accidents.
An ABD survey found that 95% of members think that the Government should stop the roll out of 20mph zones while the investigation is carried out.
Over half (56%) those surveyed have had a 20mph zone introduced in their area, while 98% believe it is more important to adjust speed to the road conditions rather than obey a set limit.
Over three quarters (77%) believe that educating all road users about the Highway Code would make the biggest difference when it comes to improving road safety, while just 3.8% think that 20mph advocates have a credible case.
Copyright Press Association 2014