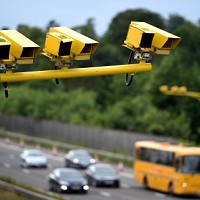 All speed cameras on England's motorways will be painted yellow from October 2016, with grey cameras to be gradually phased out.
Announcing the decision, the Government said it hopes the move will make cameras easier to see and lower the chance of drivers needing to brake suddenly.
The RAC calls the decision "long overdue", saying it will bring consistency to the roads and help to avoid confusion. It has called on ministers to apply the switch to all roads, not just main truck routes and motorways.
Earlier this year, the Government asked for an investigation into the situation on the country's motorways, where there are around 200 camera sites.
Grey cameras were launched in England nine years ago on a Birmingham stretch of the M42. This followed variable speed restrictions coming into force.
Transport Secretary Patrick McLoughlin said: "I've always been clear that cameras should be visible and get used for safety rather than revenue raising.
"This move is about applying common sense to our roads. Speed cameras should make journeys safer rather than lead to dangerous braking."
Department for Transport (DfT) officials say costs will be kept to a minimum by changing most cameras during their standard renewal dates.
Pete Williams, external affairs head for the RAC, says: "The Government's reassurance that all motorway speed cameras will be painted yellow by October 2016 is long overdue and brings a welcome degree of consistency which will ensure that the road safety benefits of the varied types of cameras are maximised.
"Yellow speed cameras at the roadside are a familiar feature on the UK road network, both loved and loathed by motorists and road users in equal measure.
"But the proliferation of grey, unmarked motorway gantry cameras has led to confusion for many and accusations that they were there to catch out unsuspecting motorists and to raise revenue rather than improve road safety.
"Now with evermore sophisticated models like the inconspicuous HADECS3 verge-mounted motorway camera that covers three lanes, clear identification will ensure that the authorities maintain the trust of drivers and dispel any 'money raising' suspicions.
"For the sake of consistency and to avoid further confusion for drivers the Government needs to extend this guidance to apply to all speed cameras, wherever they encounter them on whatever roads - so including local authorities."
Motoring News articles do not reflect the RAC's views unless clearly stated.
Copyright Press Association 2015