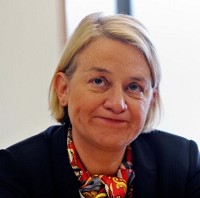 The Green Party is pledging to scrap any major road building if it gets to power.
The party said it would abandon the current Government's plans for a £15 billion schedule of new major roads , announced by the Coalition last December.
This followed an RAC Foundation warning that an additional 7 million drivers are expected on the country's roads over the next 20 years.
Public transport would benefit
Natalie Bennett, the party's leader, said the money saved would instead go towards giving students public transport free of charge.
The money will also fund a 10% average cut in fares for public transport users, it was announced at the party's launch of its manifesto in east London's Dalston.
Ms Bennett, who said the country had reached its optimum number of cars, said that the Green's transport manifesto also includes a change in road accident liability.
It will introduce a plan to presume motorists liable for any injuries to cyclists and pedestrians in an attempt to reduce road casualties.
In addition, the Greens' transport manifesto includes bans on pavement parking and night flights and the denationalisation of the railways, Ms Bennett said.
An end to road building
She stressed that bringing an end to huge road building plans is key to the party's plans, adding that new thoroughfares often create extra traffic.
Ms Bennett said many such schemes were abandoned during the 1980s and 1990s. This is because it was discovered that they actually generate additional traffic or just move traffic congestion around, she said.
The leader added that youngsters nowadays are passing their test later, driving fewer miles and purchasing vehicles later in life.
The party announced that its strategy was towards "reliable", "affordable" public transport. Ms Bennett said this would enable more road users to be connected, including via Twitter and Facebook, while commuting on buses and trains.
She said that people could not or should not do this while behind a wheel.
Her party also voiced its opposition to additional runways at Gatwick and Heathrow airports.
The Greens said they would also introduce fuel tax and VAT on planes in a bid to reduce air pollution.
Copyright Press Association 2015