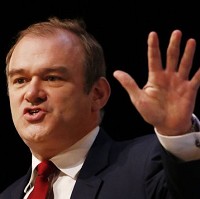 The drive to slash in half carbon emissions by the mid-2020s will not slow down, the Energy and Climate Change Secretary is promising.
Ed Davey says the targets for the 2023-2027 period, which were set three years ago, remain unchanged.
The target seeks to ensure that by 2027 the UK is emitting half the amount of greenhouse gases it was in 1990.
Green groups had feared the Government may weaken the targets amid concerns that they could cut Britain's economic competitiveness.
But the Government's Committee on Climate Change said watering down the targets is not an option.
And Mr Davey says he believes maintaining the targets will help attract investment and strengthen efforts to forge a global climate change deal.
He says he took the views of businesses, green groups and investors into account, the vast majority of whom believed changing the carbon budget would not be justified.
The target was originally set by Mr Davey's predecessor, Chris Huhne, in 2011.
Copyright Press Association 2014