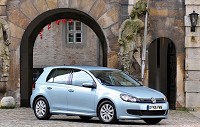 The greenest ever Volkswagen Golf is now available to order, with a class-leading 99g/km CO2 emissions and 74.3mpg, priced at £17,325 for a three-door model.
The Golf BlueMotion is based around a standard Golf engine, with 105 horsepower, and takes 11.3 seconds to reach 62 mph.
A start/stop system, regenerative breaking, hill hold, low-resistance tyres, longer gear ratios and a computer that recommends gear changes are among the facilities designed to improve environmental impact, combining with a "sport styling kit" including spoilers and 15-inch alloy wheels.
In another move to try and improve consumption, the spare wheel is replaced with a tyre repair kit to cut down on weight.
In a break from Volkswagen's current naming policy of economy models, the 99g/km Golf will be the only model in the range to be called simply Golf BlueMotion. The 107g/km Golf models will now be denoted as BlueMotion Technology models.
An additional £585 premium is charged for the five-door model.
Copyright © Press Association 2009