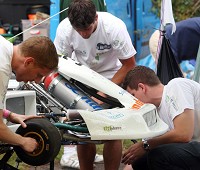 Engineers at a university have designed a "green" racing car that runs on biofuel, and is made up of several waste materials.
A team of engineers at the University of Warwick has created the car to look like any other Formula 3 machine, with the hope that the car will drive home the message that environmental awareness has a place in motorsport.
The car, which is due to compete against 22 more conventional Formula 3 cars in its first race at Brands Hatch next month, can accelerate to 60mph within 2.5 seconds and reach speeds of 130mph.
The vehicle's carbon fibre bodywork comes from aviation industry scrap, and plastic sift drink bottles. Its steering wheel composed is of waste from juiced carrots.
The engineers' search for green materials led them to a company in Scotland that makes fishing rods from glued-together carrot fibres.
Fuel made up of chocolate waste and fermented wine dregs powers the car's 230bhp recycled aluminium engine.
Project leader Dr Kerry Kirwan said: "We'll be disappointed if it doesn't do well. We believe this is the greenest car in its class. It's the first car of its kind built from waste material, recycled material and natural materials, but it has the same performance levels and looks just like a Formula 3 racing car."
Copyright © Press Association 2009