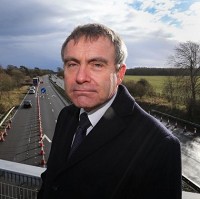 The Roads Minister has welcomed a multimillion-pound project which should ease traffic on a major Kent road.
For some years the 2.5-mile section of the A21 between Tonbridge and Pembury has been heavily congested at peak times, but work will soon start on a scheme to upgrade the route from single to dual carriageway.
The work is expected to cost between £59 million and £78.6 million and will include upgrading junctions on the road and improving the general layout.
Roads Minister Robert Goodwill said the improvements are good news for both nearby residents and businesses. He said they are likely to have a positive effect on the local economy.
A public inquiry into the scheme found widespread support among local businesses, although it did attract criticism from those worried about the potentially damaging effect on the environment.
RAC Foundation director Professor Stephen Glaister said: "In 2011 we identified this scheme as delivering the best value for money of all the 96 major road projects sitting on the Department for Transport's shelf waiting for funding.
"For every £1 spent there will be up to £11 of benefits. Therefore it is good news it has finally got approval and a great relief to the drivers who regularly get stuck there. It should also reduce emissions from the vehicles that up to now have routinely sat in jams on the existing stretch of road."
Highways Agency project manager Graham Link described the A21 as a "vital" route which links the Tunbridge Wells, Hastings and Bexhill areas to the M25 and London.
He said the new section of road would have an increased capacity which will enhance safety and stop the bottleneck problem which currently exists.
Copyright Press Association 2014