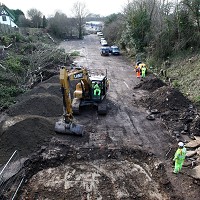 A controversial link road has finally been given the green light by the Government.
Work can now get under way on the £92 million single-carriageway road that will join the A259 in Bexhill, East Sussex, with the B2092 Queensway in Hastings.
The Government is pumping nearly £57 million into the development, which should be completed in 2015.
The 3.5-mile road will not only improve accessibility between the two towns, but also enable the development of north-east Bexhill - the largest single development site in the area.
Environmental campaigners have fought vigorously against the development going ahead, and even set up a protest camp to oppose it, but Transport Secretary Patrick McLoughlin said the scheme will kick-start economic regeneration in a deprived area of south-east England and tackle problems of accessibility between Bexhill and Hastings.
"It will open up 52,000 square metres of land in north-east Bexhill for business development and housing and creating new jobs. The money we are putting into this scheme shows that the coalition Government is serious about investing in the infrastructure the country needs to drive economic growth," he said.
Copyright Press Association 2013