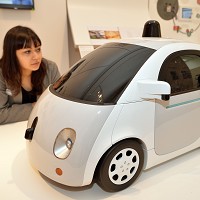 Google's purpose-built driverless cars will soon be appearing on public roads in California.
The autonomous vehicles have been limited to testing on private tracks so far. But all that will change this summer after the technology giant was granted licencing to test them alongside regular traffic.
Roads in the Californian city of Mountain View, where the company is head-quartered, will be the new test track.
While Google has previously tested driverless car technology on public roads using software controlling modified vehicles from Lexus, the upcoming tests will involve the prototype of its very own design.
But the cars will not be completely robotic. Safety drivers will be on-board the vehicles during the trials, having access to the steering wheel and pedals so they can take control if something goes wrong.
The new prototypes will use the same software found in the existing fleet of self-driving Lexus RX450h SUVs, which has logged almost a million autonomous miles on the roads since the project started.
Their speed will also be limited to 25mph to ensure the safety of everyday motorists.
Earlier this month, Google confirmed that its autonomous vehicles had been involved in 11 minor traffic accidents since it began experimenting with the technology six years ago. But it claims the cars themselves had not caused any of the collisions, instead attributing the incidents to human error.
Here in the UK, the government has given the green light to driverless trials on public roads in Greenwich, Coventry, Bristol and Milton Keynes. The hope is that the technology will eventually reach a level of safety and sophistication so drivers can be effectively be ferried about as the cars do the work.
Copyright Press Association 2015