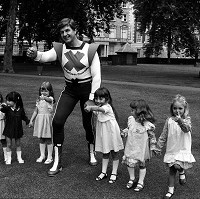 One of the 1970s' most iconic TV advert figures has come out of retirement.
Green Cross Code Man has dusted down his famous green and white superhero costume.
Dave Prowse, 79, is best remembered for inspiring children to be more aware of road safety through a series of public information films. The ads were made in a bid to reduce child-related road accidents.
Now he is back - but this time educating adults about how to cross the road safely.
Green Cross Code Man is particularly scathing on adults whose technology devices blind them to the traffic dangers around them. The films use the examples of adults putting themselves in danger by placing more emphasis on their mobile phone or headphone music.
Prowse, the man who played Darth Vader's body in Star Wars, agreed to do the videos for an insurance company on YouTube.
The films coincide with Road Safety Week's activities from November 17 to 23.
Copyright Press Association 2014