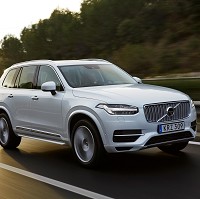 Volvo's XC90 T8 Twin Engine plug-in hybrid model is now eligible for the government's flagship green grant.
The Swedish automaker has confirmed that the newcomer, which is the first to be built on its in-house platform and powered by new Drive-E powertrains, has qualified for the UK's Plug-In Car Grant (PICG) scheme.
It means drivers can get behind the wheel of the seven-seat SUV for less, while companies stand to save a sizeable sum as well.
The XC90 T8 Twin Engine is the first petrol plug-in hybrid to roll off the Volvo production line. With a combined output of 407hp, it emits a mere 49g/km of CO2 and is capable of accelerating from zero to 60mph in 5.3 seconds.
Unlike like other green cars, interior space is not compromised by the hybrid hardware.
A supercharged/turbocharged 320hp 2.0-litre 4-cylinder petrol engine drives the front wheels and a rear-mounted 87hp electric motor drives the back, while a 25hp starter motor is mounted between the engine and the eight-speed auto gearbox.
The necessary battery pack is neatly concealed within the centre console.
Drivers can buy the XC90 T8 Twin Engine for an on-road price of £54,955 with the PICG included.
Companies that purchase the plugin-hybrid can write down as much as 100% of the cost against their income tax liability, while people using it as a company car pay as little as £99.83 benefit-in-kind tax a month.
To qualify for the PICG, hybrid vehicles must emit less than 75g/km, have a minimal travelling range of 10 miles and must reach a speed of at least 60mph. The XC90 T8 Twin Engine ticks all of these boxes.
Grants are available for 35% off the cost of car, up to a maximum of £5,000.
Copyright Press Association 2015
https://www.gov.uk/government/publications/plug-in-car-grant (Plug-In Car Grant)