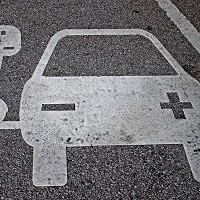 Drivers of electric vehicles in England have more charging points at their disposal than their counterparts across the UK.
The RAC Foundation has found that 98% of England's motorway network is no more than 20 miles from an electric vehicle charge point.
This figure falls to 82% when e xtended to include major A roads, although it is a much larger coverage compared to elsewhere.
Just 28% of the major road network in Scotland is within 20 miles of a charge point. It is only slightly better at 45% in Wales.
The data reveals 72% of service stations on motorways in England now offer electric charging points, catering to the green motorist.
As many as 92% of these charging points are rapid, meaning batteries can be almost fully replenished in around half an hour.
There are currently just over 20,000 battery-only vehicles licensed in the UK, but t he £5,000 subsidy for electric cars is being reduced and replaced by a tiered system from March.
Vehicles with a zero-emission range of over 70 miles will be eligible for up to £4,500, while those with a shorter range, such as plug-in hybrids, will be eligible for up to £2,500.
Copyright Press Association 2016. Motoring News articles do not reflect the RAC's views unless clearly stated.