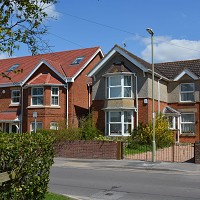 A Hampshire great granny is feeling embarrassed after she had contractors pave a driveway only days after contractors for her council installed a lamp post at the end of her drive.
Kathleen Annals, from Andover, Hampshire, had contracted workers to lay a driveway after she became frustrated when family and friends had no place to park their cars when they came to visit her at her detached home.
Until the pensioner applies for the new lamp post to be moved, her visitors will still be without a place to park as they won't be able to access her brand new drive.
"Last year they issued parking space permits outside, I have no car since my husband died but I have friends and people come to visit and nowhere for them to park so I thought I should have a driveway put in," Mrs Annals said.
A Hampshire County Council spokeswoman said that the lamp post was put in as part of a continuing series of installations in the district. She said that applications for moving lamp posts and dropped kerbs would be considered on a case by case basis.
Copyright Press Association 2013