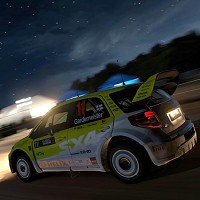 The Gran Turismo (GT) Academy's virtual driving competition started this month and many are hoping to become the next big thing in car racing, real and virtual.
The annual competition started in 2008 and previous winners have gone on to drive competitively for Nissan at circuits like Le Mans.
All you need to take part in the qualifying sessions is a PlayStation 3, along with some excellent driving skills.
The qualification process lasts eight weeks and is specifically designed to test all of the various elements involved in competitive driving and gauge whether the candidate has the talent to make it to the next level.
Kazunori Yamauchi, president of Polyphony Digital and the creator of the competition, said: "This time around, we've designed a GT Academy qualification format as part of the Gran Turismo series on an unprecedented scale and aimed towards a wide variety of players."
The prize up for grabs is a highly-acclaimed Driver Development training programme which has turned previous winners into professional drivers.
Copyright Press Association 2012