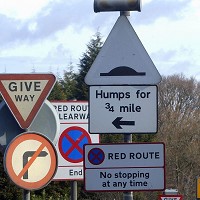 Unnecessary traffic signs are to be removed, while helpful ones are to be made more visible.
It is part of government plans to keep motorists safe and restore "common sense" to Britain's roads.
Ministers say "useless" signs are a waste of taxpayers' money and can be a dangerous distraction to drivers.
Research carried out by the Department for Transport (DfT) in 2013 revealed the number of traffic signs has doubled in the past two decades.
Traffic light warning signs placed next to the lights themselves are an example of the signs deemed to be unnecessary.
The DfT proposes some temporary signs are given a remove-by date, while helpful signs are made clearly visible on unlit roads.
A new taskforce, led by senior Tory MP Sir Alan Duncan, will suggest more ways of reducing roadside clutter. It will also consider whether some signs, such as traffic light warning signs, can be removed altogether.
Sir Alan claims thousands of unnecessary roads signs have been erected across the UK.
His taskforce will present its recommendations in December.
The DfT has already relaxed the requirements for the design and location of some signs, plus published advice to help local authorities across the country remove signs displaying unnecessary warnings or instructions.
Copyright Press Association 2015