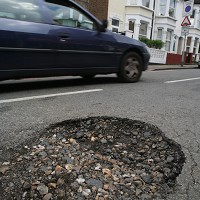 The Government has been criticised for its "piecemeal" approach to funding road maintenance.
The Commons Public Accounts Committee went as far to say that the Department for Transport (DfT) had adopted a "stop-go" method for injecting cash into the upkeep of England's roads.
Such a pattern has emerged in recent decades as the DfT seeks to cut the roads maintenance budget, only to then put more money into the coffers to deal with emergency situations such as flood damage.
RAC Foundation director Stephen Glaister said: "While recent harsh winters have exacerbated and highlighted the poor state of our roads, the seeds of our current problems were sown decades ago.
"Our analysis shows that back in the mid-1980s local road surfaces were being repaired and replaced once every 12 years or so. Today the rate is once every 25 years.
"The state of our roads is a big political issue. The public routinely puts potholes at the top of the transport priority list, ahead even of things like fuel prices, bus services and rail fares."
Evidence shows that maintenance budgets were reduced by £1.2 billion over four years from April 2011, but extra funding, equalling £1.1 billion, was provided on nine occasions over the same period.
MPs have been warned that such an approach is making it difficult to run transport networks cost-effectively.
Furthermore, c ompensation payouts for road-related damage claims totalled £31.6 million in 2013 alone, which reinforces the importance for motorists to ensure their vehicle carries comprehensive car insurance .
But the public's satisfaction with the condition of the roads stands at the lowest level since surveys began six years ago.
Committee chairman Margaret Hodge said t here has been too much "reactive work" following events such as flooding and said more focus on preventative efforts would result in lower costs across the long term.
Copyright Press Association 2014