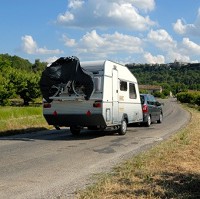 Ministers in the UK are resisting attempts by Brussels to introduce roadworthiness checks for caravans.
They remain unconvinced that the testing would actually be of benefit to the industry, which is worth £6 billion a year to the country's economy.
Under the proposals, caravans weighing more than 750kg would have to undergo checks similar to the MoT test for cars.
"There is no evidence to suggest that the inclusion of caravans and light commercial trailers would benefit from a road safety angle," declared Conservative MEP Jacqueline Foster. "We should be encouraging our leisure and tourism industries, not penalising them."
Caravan enthusiasts in the UK have voiced their opposition while a number of other European Union countries are also believed to be against the proposals.
A spokesman for the Caravan Club, which represents nearly one million members, believes the plans would be a hindrance to caravanists.
"The Caravan Club actively supports and encourages measures designed to improve road safety, but has seen no EU evidence that MoT-style testing on caravans will do so," he said.
"Caravanning is inherently very safe, with extremely low levels of reported accidents."
Copyright Press Association 2013