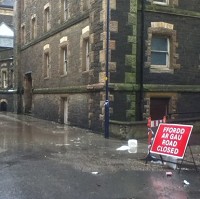 Ministers have pledged an additional £6.7 million fund to help local authorities deal with the damage caused by recent storms.
The announcement follows the Local Government Association's (LGA) call for the Department for Transport (DfT) to help meet repair bills to roads, seaside defences and other infrastructure amounting to hundreds of millions of pounds.
The flooding and severe weather left many roads damaged with the potential to cause car accidents andbreakdowns .
Local government minister Brandon Lewis claims the £6.7 million package will add to funds already available.
This includes money under the Bellwin Scheme, which allows town halls to apply for assistance in unusual circumstances.
Mr Lewis said: "This will top up support councils can get under the Bellwin scheme to cover the costs of clearing up after severe weather and flooding, and the substantial funding councils already get for potholes."
He said that the DfT is already giving over £3.4 billion during the lifetime of this Parliament and £5.8 billion in the next for local highways maintenance.
Copyright © Press Association 2014